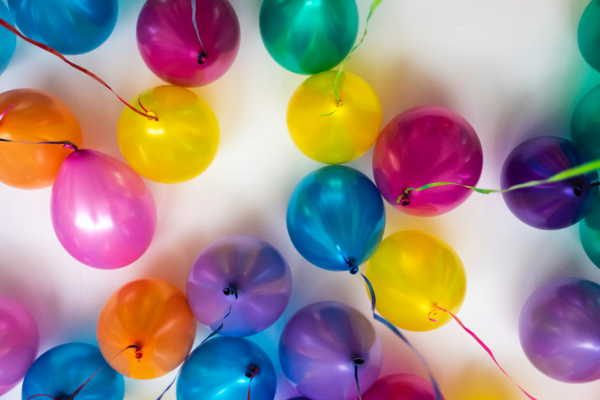 Be part of Radioplayer's 10th birthday
A year of Disney+ up for grabs!
This month marks Radioplayer's tenth anniversary!
We started out in March 2011 building web players and since then we've expanded with apps available on platforms from phones and smart speakers to TVs, in car and beyond. And we're live in a dozen countries across Europe and Canada.
To celebrate, we're giving you the chance to win a year of Disney+ plus Radioplayer goodies by sending us a 'Happy Birthday' video selfie. All you have to do is film a short clip of yourself saying Happy Birthday to Radioplayer, send it in and you could be in with a chance of winning.
We're looking for the most creative clips. We don't mind whether you film at home or out and about in your local community but the most visually interesting clips will go on to be included in a video montage we'll be sharing with broadcasters, supporters and within the Radioplayer family.
There are a few simple rules to be aware of. These are
The clips must be 5-10 seconds long
Film in landscape (hold your phone horizontal not upright)
They can be in any language but must include the phrase 'Happy Birthday Radioplayer'
And please do observe the social distancing rules in your area. Let's keep everyone safe whilst having fun
Once you've got your clip ready, email it to contact@radioplayer.co.uk with the subject line BIRTHDAY! or post to our Facebook page.
Closing date is 1200 GMT on Friday 26th March 2021. Boring legal stuff follows.
COMPETITION RULES
1. This competition will be governed by these terms and conditions (the "Terms") and entrants agree that they have read and understood these Terms and will be bound by them.
2. Entrants may enter the competition by following these steps:
    (i) Email a video clip of you and/or members of your household wishing Radioplayer a 'Happy Birthday' or;
    (ii) Post the video clip on Radioplayer's facebook page (the "Entry Content")
3. The closing time for entries is 12:00 on Friday 26th March 2021.
4. To enter the competition, entrants must fulfil each of the following criteria:
    (a) be a resident of the UK or the Republic of Ireland;
    (b) be eighteen (18) years old or over at the date of entry;
     (c) hold a email account or Facebook account (as applicable to the entry route); and
    (d) not be an employee or immediate relative of an employee of UK Radioplayer Limited (the "Promoter") and/or the Promoter's respective parents, subsidiaries or affiliated companies or any other person professionally connected with this competition.
5. All entrants must adhere to (as applicable) their email provider or Facebook's rules or terms of service in respect of this competition.
6. One (1) winner will be selected at random by the Promoter from all valid entries containing the correct Entry Content and which are received on or before the closing date.
7. The winner will receive a selection of Radioplayer branded merchandise and a 1 year gift membership of Disney+ UK (the "Prize").
8. The competition is free to enter. However, costs of accessing the competition via the Internet may vary so please check with your service provider for current charges. Entrants should seek the permission of the person paying the bill before entering.
9. No purchase necessary.
10. Multiple entries per person are permitted, including across multiple social media accounts.
11. The Promoter reserves the right to contact any and/or all entrants by a direct message on the social media forum through which they entered (Twitter, Instagram or Facebook, as applicable) throughout the term of the competition in relation to these Terms and the Prize.
12. The winner will be selected on Wednesday 7th April 2021.
13. For the avoidance of doubt, the Prize does not consist of anything other than expressly set out in Term 7 above and no additional costs are included.
14. The winner may be required to provide a written acknowledgement of acceptance of all the Terms of this competition prior to receiving the Prize.
15. The winner is responsible for all applicable taxes and expenses not specified in the Prize description.
16. The winner will be notified individually by email or by a direct message to his or her social media account immediately after the winners are selected. Upon notification the winner will be asked to provide their name, age, address (including postcode), telephone contact number and e-mail address.
17. In the event that the Promoter cannot for any reason establish contact with a winner within twenty-four (24) hours of the Promoter's initial attempt to do so, the Promoter reserves the right to immediately draw another winner who will be selected applying the same criteria as used to select the original winner.
18. The Promoter reserves the right to select an alternative winner in the event that the Promoter has reasonable ground for believing that a selected winner has contravened any of these Terms.
19. The Promoter reserves the right to select an alternative winner in the event that the Promoter has reasonable grounds for believing that a selected winner has contravened any of Twitter, Instagram or Facebook's (as applicable) rules or terms of service.
20. The applicable social media site (Facebook) takes on no responsibilities in respect of this competition. This competition is in no way sponsored, endorsed or administered by, or associated with any of the social media sites cited (Facebook (as applicable)).  Entrants will be providing information to Promoter only and not to Facebook (as applicable). Entrants hereby release and hold harmless Facebook from and against any and all claims, injury or damage arising out of or relating to participation
21. The Promoter reserves the right to terminate the competition and withhold the Prize in the event that, in the Promoter's opinion, there are insufficient entries for the Promoter to be able to select a winner or where, in the Promoter's opinion, improper conduct by an entrant (or any number of them) has rendered the competition unfair to all entrants. The Promoter's decision is final with respect to any aspect of the competition, including the determination of any winners of the Prize.  No correspondence will be entered into.
22. By entering this competition, all entrants hereby grant to the Promoter and its respective parents, subsidiaries, affiliated companies and licensees a perpetual, worldwide, royalty-free, irrevocable, non-exclusive licence to use, reproduce, copy, adapt, transmit, broadcast, publish or delete any information or other material including without limitation, the entrant's name, entry, Entry Content, photograph, likeness, biographical information, voice, text, images, designs, audio and/or video clips submitted in entering or any statement made by them concerning the competition ("Submissions") by any means and in any and all media as they, in their discretion, see fit.  For the avoidance of doubt (but without limitation) this will include the winner's name, location, and Entry Content being broadcast on-air and posted across the Promoter's social media platforms.
23. All entrants hereby irrevocably and unconditionally waive in favour of the Promoter, the Promoter's affiliates and their licensees, assigns and successors in title, all moral rights in any Submissions to which he or she is, or may at any time in the future be, entitled.
24. Entrants acknowledge that they may be required to be used in publicity without further consent or payment if they are selected as a winner.
25. All entrants hereby undertake that nothing in the Entry Content:
    (a) is defamatory;
    (b) is sexually explicit or suggestive, contains nudity or any dangerous activity or is profane, pornographic or violent;
    (c) is derogatory of any ethnic, racial, gender, religious, professional or age group or endorses any form of hate or hate group;
    (d) promotes any particular political agenda or message;
    (e) reveals any personal information, including but not limited to license plate numbers, personal names, email addresses or street addresses; or
    (f) is otherwise offensive or illegal.
26. Decisions as to whether Entry Content infringes these Terms in any way shall be made at the sole discretion of the Promoter. Submissions that do not comply in all material respects within the Terms shall be disqualified. The Promoter reserves the right to take down any entry that contains, in the sole opinion of the Promoter, any of the content as specified in Term 25.
27. The Promoter can accept no responsibility for entries delayed, misdirected or undelivered. Incomplete entries will be disqualified. The Promoter shall not be responsible for technical errors in telecommunications networks, Internet access or otherwise preventing entry to any competition.
28. The Prize is as stated and is non-transferable. No cash alternatives will be offered.  If due to circumstances beyond the Promoter's control the Promoter is unable to provide the stated Prize, the Promoter reserves the right to award a substitute prize of equal value or greater value. The Prize is subject to the additional terms and conditions of the manufacturer or supplier.
29. The Promoter shall not be liable for any loss or damage howsoever caused (whether in contract, tort or statutory duty or otherwise) arising out of or in connection with the competition and/or any prize other than death or personal injury caused by negligence of the Promoter and/or the Promoter's personnel and/or deceit or fraud by Promoter and/or its personnel.
30. The Promoter shall not be liable for any delay in performing or partial or total failure to perform any of its obligations to the winners under these Terms and Conditions if such delay or failure is caused by circumstances beyond its reasonable control including without limitation delays (to postal services or otherwise), changes, disruptions, cancellations, diversions or substitutions howsoever caused including without limitation as a result of war, terrorist action or threatened terrorist action, strikes, hostilities, civil commotions, accidents, fire, flood or natural catastrophes. For the avoidance of doubt, the affected winners shall be solely liable for any additional costs incurred as a result.
31. Each provision excluding or limiting liability is to be construed separately and will apply and survive even if for any reason any of the other provisions are held to be inapplicable or unenforceable in any circumstances. Each of the provisions excluding or limiting liability will remain in force notwithstanding any termination of these Terms.
32. The name of the winner can be obtained by sending a stamped, self-addressed envelope to: UK Radioplayer Ltd, Birthday Video Competition, 55 New Oxford Street, London, WC1A 1BS, for one (1) month after the competition closes.
33. Any personal information, including without limitation, the entrant's name, age, address (including postcode), telephone number and/or email address will be used solely in connection with this competition and for any purpose for which the entrant specifically opts in and will not be disclosed to any third party except for: (a) the purpose of fulfilling the Prize where applicable; and (b) for any purpose for which the entrant specifically opts in. Any personal information held by the Promoter in respect of any competition will be held on record for a reasonable period to fulfil the purpose for which such personal information was collected. If an entrant gives the Promoter permission to pass on their personal information to a third party then this shall no longer be the responsibility of the Promoter and shall be subject to the privacy policy of that third party.
34. Only entries from individuals will be accepted.  Any entries that the Promoter believes have: (a) been made via participation in a syndicate; or (b) via any form of machine assisted intervention enabling computer generated multiple entries of any fashion, will be disqualified. The Promoter reserves the right to discount multiple entries from the same IP address.
35. These Terms may be amended or varied at any time by the Promoter on notice. No waiver of any rights by the Promoter or any entrant will be taken as a waiver of any other rights it may have. For example, if the Promoter waives its right to complain about a particular breach of these Terms by an entrant, it does not prevent the Promoter from complaining about other breaches.
36. These Terms shall be governed by and construed in accordance with the laws of England and Wales and any disputes shall be subject to the exclusive jurisdiction of the English Courts.
37. Any queries regarding the competition should be addressed to:
UK Radioplayer Ltd, Birthday Video Competition, 55 New Oxford Street, London, WC1A 1BS.